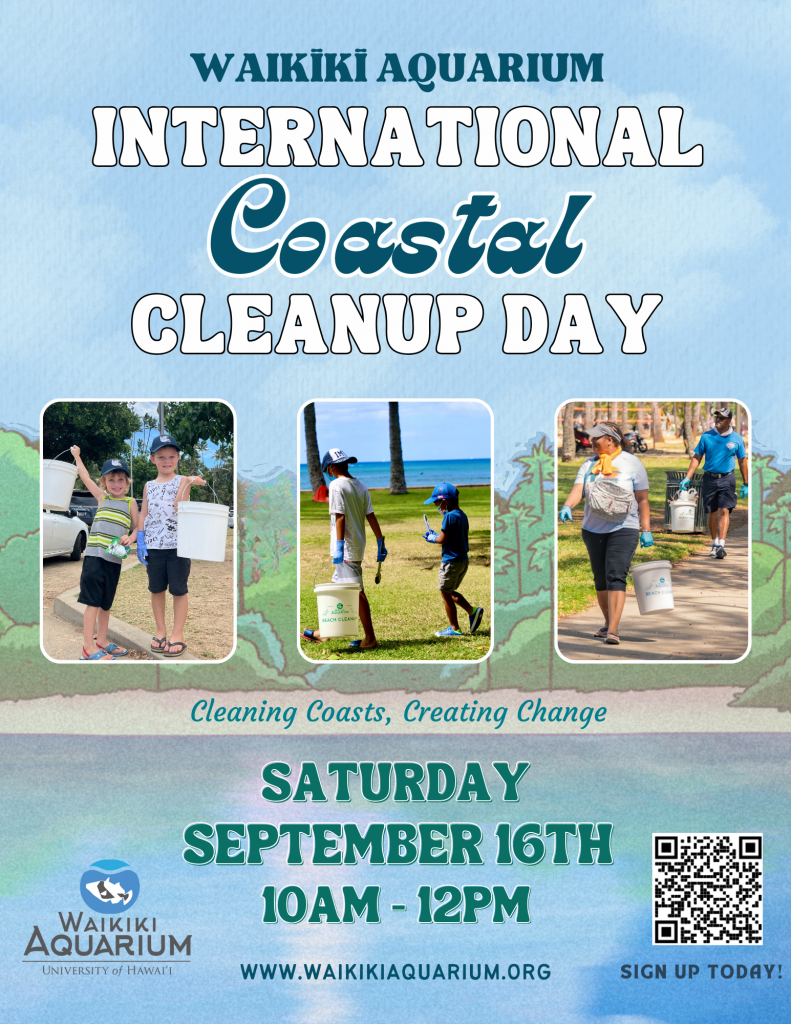 Be apart of the change and join the Waikiki Aquarium for International Coastal Cleanup Day, a global movement dedicated to cleaning the beaches and coastlines around the world! We hope to SEA you there!
Event Time: Saturday, September 16th, 2023 10 AM – 12 PM
Meeting Address: Waikīkī Aquarium 2777 Kalakaua Avenue Honolulu, HI 96815
Registration Required. Sign up today at https://forms.gle/dmKya9NywCoaPi5M6
Check in anytime between 10 AM – 11:30AM at the gated lawn entrance of the Aquarium (to the left of the front entrance) to pick up a bucket and tools for cleaning up the surrounding parks and beaches. All supplies and collected rubbish must be returned to the Aquarium by 12PM.
Children must be accompanied by an adult. Supplies such as buckets/bags and tongs will be provided. Gloves can be provided to those who do not bring their own reusable pair. Remember to bring your own water and reef-safe sunscreen!
If you are interested in participating in a group photo, please meet back at the check in stand at 11 AM. You are welcome to go back out to continue cleaning after the photo is taken.
At the end of the event, we will weigh all collected rubbish (so donʻt dump it before coming back to the Aquarium). Mahalo for keeping our beautiful island clean and trash free!
If you have any questions, contact us at volunteer@waquarium.org