40th Annual Hawaiian Slack Key Guitar Festival
"Waikiki Style"
Waikiki Aquarium
Saturday, August 13th
4 p.m. – 9 p.m.
$10 Donation to benefit the Waikiki Aquarium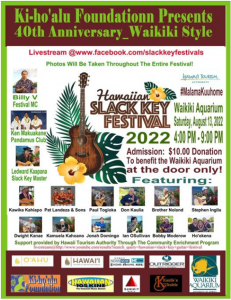 Mark your calendars and come shell-ebrate the 40th anniversary of the Hawaiian Slack Key Festival – Waikiki Style! Since 1982 when the festival began, incredible musicians have graced the stage filling the air with exceptional music and keeping the 190+ year old art form alive and cherished!
Bring your ʻohana to the Waikīkī Aquarium on Saturday, August 13, 2022 for a night to remember. Doors open at 4:00 p.m. and ends at 9:00 p.m. No alcohol, outside food, or beverage will be permitted. Admission is $10 per person, cash only at the door. Proceeds will benefit the Aquarium and its mission to inspire and promote understanding, appreciation, and conservation of Pacific marine life!
Sponsored by Hawaii Tourism Authority, Outrigger Hotels & Resorts, Hawaii News Now, Hawai'i Visitors & Conventions Bureau, Hawaiian 105 KINE, Ki-ho'alu Foundation, Oʻahu Visitors Bureau, Kanile'a 'Ukulele, and Summit Media.