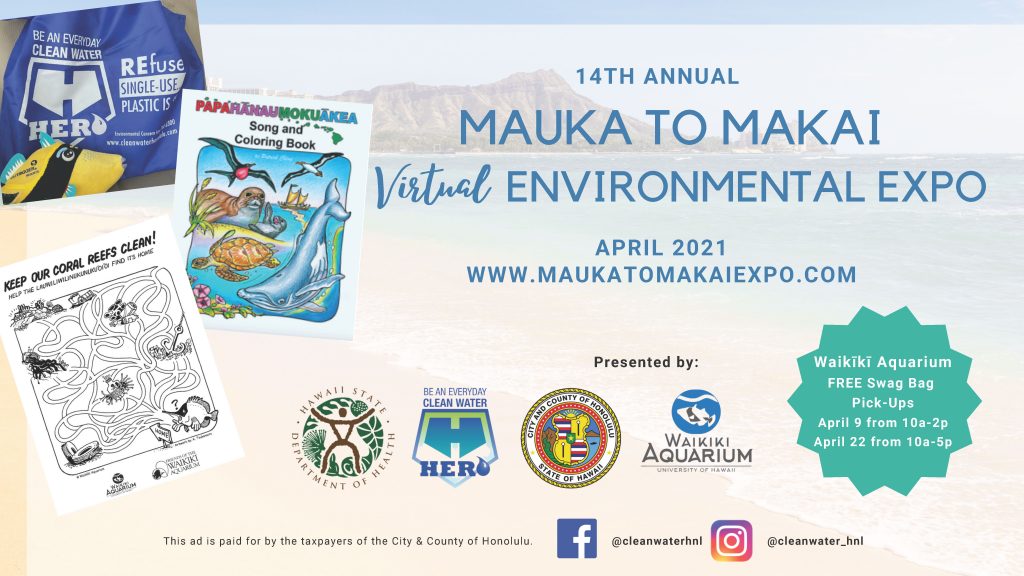 14TH ANNUAL MAUKA TO MAKAI ENVIRONMENTAL EXPO GOES VIRTUAL
*City and County of Honolulu's Department of Facility Maintenance, Hawai'i State Department of Health and Waikīkī Aquarium present FREE virtual Expo starting April 1*
Celebrate Earth Month this April with the 14th Annual Mauka to Makai Environmental Virtual Expo. Presented by the City and County of Honolulu's Department of Facility Maintenance, the Hawai'i State Department of Health Clean Water Branch, and the Waikīkī Aquarium, the FREE family-friendly Expo goes virtual once again, promoting the importance of keeping our island home clean and pollution-free, from the mountaintops to the sea.
"We're excited to co-host Mauka to Makai virtually once again in an effort to raise awareness of the environmental issues facing our island home," said Dr. Andrew Rossiter, Waikīkī Aquarium Director. "Protecting our natural resources takes community effort and we welcome the public to join us to learn ways to care for our natural resources and wildlife."
Throughout the month of April, participants will enjoy cultural entertainment, a native plant giveaway courtesy of The Garden Club, and interactive virtual educational activities from a variety of organizations, including hands-on learning and arts and crafts that showcase ways to protect and preserve Hawaiʻi's natural environment.Mauka to Makai is free and open to the public with a complimentary native plant giveaway and swag bag pick-up at Waikīkī Aquarium on April 9 from 10 a.m. to 2 p.m. and April 22 10 a.m. to 5 p.m. The swag bags include educational materials, keiki activities and more. Items available while supplies last. One native plant and swag bag offered per family. Our Gift Shop will be open during drive-thru times.

Advanced registration is required. To register for the bag pick-up and to participate in this year's expo, visit www.maukatomakaiexpo.com.
ABOUT THE WAIKĪKĪ AQUARIUM
Founded in 1904 and administered by the University of Hawai'i since 1919, the Waikīkī Aquarium is located on the shoreline of Waikīkī Beach next to a living reef and across from Kapiolani Park. The Aquarium – the second oldest in the U.S. – showcases more than 500 marine species, and maintains more than 3,000 marine specimens. Public exhibits, education programs and research focus on the unique aquatic life of Hawai'i and the tropical Pacific. The Aquarium welcomes around 300,000 visitors annually and is currently closed due to COVID-19 precautions. It anticipates to reopen this summer. For more information about the Waikīkī Aquarium, including membership, please call (808) 923-9741 or visit www.waikikiaquarium.org.
ABOUT THE DEPARTMENT OF FACILITY MAINTENANCE – STORM WATER QUALITY DIVISION
The mission of the Storm Water Quality Division (SWQ) is to empower and provide guidance for the public on effective ways to minimize our impact on water quality in order to protect public health and the beauty of Oahu. For more information about the SWQ and upcoming volunteer opportunities, please visit www.cleanwaterhonolulu.com.
ABOUT THE DEPARTMENT OF HEALTH – CLEAN WATER BRANCH
The Clean Water Branch (CWB) protects the public health of residents and tourists who enjoy playing in and around Hawai'i's coastal and inland water resources. The CWB also protects and restores inland and coastal waters for marine life and wildlife. This is accomplished through statewide coastal water surveillance and watershed-based environmental management through a combination of permit issuance, monitoring, enforcement, sponsorship of polluted runoff control projects, and public education. For more information about the Clean Water Branch, please visit http://health.hawaii.gov/cwb/.